Have you ever asked yourself what you would do without Google? Well I have, and the answer is nothing, without Google I would do nothing. I use almost every Google application I can get hold of and one of those is a nice little thing called Google docs.
Google Docs is an online word processor, spreadsheet, presentation, and form application Hosted by Google for free. Google Docs allows you to create documents and then edit them on the site. You can also upload Microsoft office documents onto Google docs and you will be able to edit them in Google docs as well as save them. You are then able to access them at any time elsewhere with an internet connection.
A Google doc also has a feature that allows you to collaborate your documents. This means that you can share your docs with your friends or co workers and all parties can edit the document at the same time.
You can access Google docs on your mobile phone and you can send documents vie email. You can also download the documents to your PC so you can open them in Apps like Microsoft office and open office. If I have important Documents that I want to backup I often upload them to Google docs and save them there.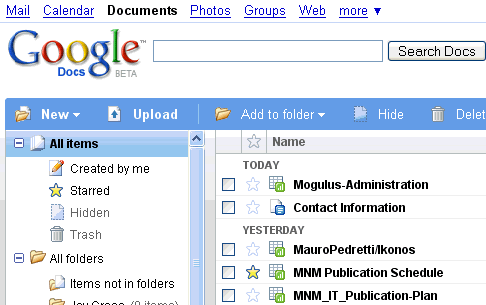 The Google docs interface is almost exactly the same as office is but the fact that you can save data online and access it from both work and home is just awesome.
If you would like to find out more about Google docs go the wiki page on it at http://en.wikipedia.org/wiki/Google_Docs
Or if you would like to watch online tutorials on how to do things and more go to
http://www.expertvillage.com/video-series/4204_google-documents.htm
Stick around wile we uncover more online office tools just like Google docs!